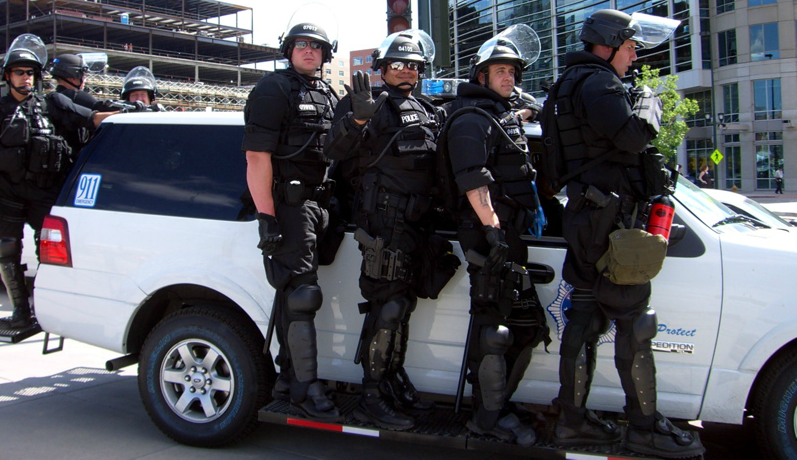 A little more than two weeks ago, Oklahoma police killed an innocent man in a movie theater parking lot, and his wife caught it on tape. The exact cause of death is in dispute, but it appears it was caused by asphyxiation as a result of being pepper-sprayed in the face and smothered under the weight of five male police officers. It's a tragic story, but in a way, the family is lucky their video footage survived; it will make charges easier to pursue and a lawsuit more likely to turn out in their favor.

Last year, in Bakersfield, CA, nine police officers and a canine were involved in the death of a father of two in front of a medical center. This assault was also filmed, this time by strangers who witnessed the beating. But police officers confiscated the phones and apparently deleted one of the videos. The other video has since been released after negative press coverage and pressure by lawyers for the witnesses.
In 2012, a Dallas police officer rammed his car into a suspect's vehicle then proceeded to fire at the man more than 40 times, resulting in his death. Police then deleted incriminating footage from a confiscated phone.
In 2011, Baltimore police detained a man and confiscated his phone after he videotaped them forcibly arresting–and bloodying the face of–a local woman. The ACLU stepped in and, just yesterday, the city of Baltimore announced a $250,000 settlement with the man while, of course, maintaining their innocence.
In 2010, The Cato Institute ranked Denver's police force as being the sixth worst city in the nation for police misconduct after a string of brutality cases marred the reputation of our city's police force. In 2011, incoming Mayor Michael Hancock appointed a new police chief, Robert White, who has instituted sweeping reforms within the police department, including placing civilians in oversight positions and redrawing district lines. That wasn't enough to stop the brutal beating of a man in 2013 that was captured by the relatively new and highly controversial "High Activity Location Observation" video system.
So now the Denver PD is looking to improve its image with a six-month pilot program in which District 6 officers (assigned to Lower Downtown or "LoDo") will be issued small cameras to be worn on their uniform at all times. According to CBS4, the cameras are smaller than the ever-popular GoPro, "as light as a pen and plugged into a tiny digital recorder that can be activated by the officer." Though the video apparently must be activated by the police officer, Robert White says that his officers have been ordered to turn it on when entering any "dangerous situation."
"From my perspective it's a safety issue and will clearly identify the truth," he said to CBS.
The best thing about the footage taken with these cameras? It is automatically routed to a server and can not be deleted by individual officers. If all goes well, the department hopes to issue similar cameras to all of its officers within 18 months. Let's hope this has a positive impact on the policing of our neighborhoods.
-Alibi Pierce