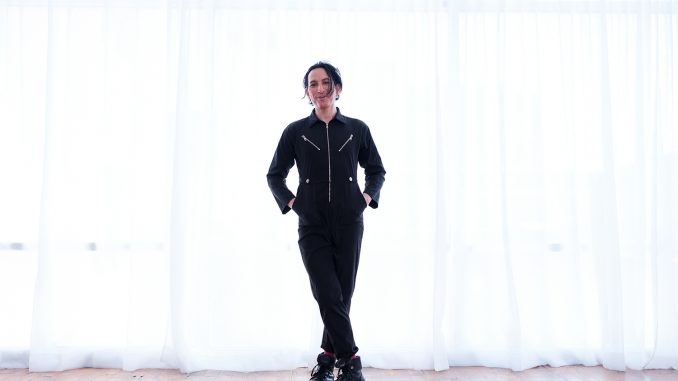 Happy New Year Everybody!!! Noise Journal is so impressed with the progress of mankind, every day we applaud humanity's merciless march toward its gloomy decadence. What, want more on that? Just look at what's going on in the international scene and you'll get one hell of a great glorious picture…
Last year (March 4, 2020) we published our review on the last 'Kingdom Of Sleep' LP by Brooklyn based musician Jonny Polonski. Over his storied and dynamic career as a solo artist, Jonny Polonsky has released six fulllength records over 23 years. From early on, he has impressed upon many music luminaries. His DIY demos led to support from Reeves Gabrels (David Bowie, Tin Machine), Marc Ribot (Tom Waits, Elvis Costello), Zander Schloss (Joe Strummer, Circle Jerks) and John Zorn. The latter invited him to play CBGB's Gallery for the New Jewish Music Festival with his band featuring Marc Ribot on guitar, Sebastian Steinberg (Soul Coughing) on bass, and Sim Cain (Rollins Band) on drums. Reeves Gabrels' introduction led to Frank Black support, representation by Pixies manager Ken Goes, and Frank Black producing a demo recording, which led iconic record producer Rick Rubin to sign Polonsky to American Recordings.
Polonsky has also performed on albums by Johnny Cash, Neil Diamond, Tom Morello (Rage Against The Machine), Pete Yorn, Dixie Chicks, Minnie Driver, and Donovan. I wanted to talk with this man and stars aligned to that a few days ago. Today we present you an Interview with Jonny Polonski, all you have to do is sit comfortably and enjoy it!
Hello Jonny – Thank you for taking the time out to speak with us today. What is on today's agenda for you?
At the moment I need to eat lunch. Some people would probably call it dinner, but I got started late today.
You are based in New York but are originally from Chicago – is that correct? Do you maintain connections to your hometown?
I was born in Chicago and raised in Wilmette, IL, a few miles north of the city, on the lake. It's also where Bill Murray is from. Most everyone I came up with ending up moving to LA, where I lived for almost 16 years. I live in Brooklyn now, as of 2018, but I'm moving back to Chicago in January. I love New York, but it's too expensive.
Please tell us about the two albums you released in 2020, "Kingdom of Sleep," "Power and Greed and Money and Sex and Death," and the remix collaborations with Alain Johannes and Jim Sclavunos that also were released this year.
I recorded "Kingdom of Sleep" on my laptop at home in the summer of 2019. The songs have a very dreamy, underworld kind of feel to them. I find a lot of them introspective and romantic, with large dashes of sci-fi thrown into the sounds and some of the words. I love the lyrics of Marc Bolan, Jimi Hendrix, Nick Cave-people who feel deeply and give you something to dream about. I played all of the instruments on it except for a couple songs-"Sign in the Window" has Matt Hankle on drums and Katie Burden on bass. That was the last band I had before moving to NY. And Matt Walker played drums on "You Turn Me On". We grew up together in Wilmette. He's played with Smashing Pumpkins, Garbage, and has been with Morrissey for years now.
And Cedric Bixler-Zavala did a spoken word thing on Ghost Like Soul. He and I are friends from LA. I played in his band Zavalaz for a little while, and we recorded a bunch of his songs, that never came out. I sent Jim Sclavunos a copy of the record because he hosts a radio show, and I am a huge fan of the Bad Seeds and Grinderman. I asked if he would remix one of the tracks and he said yes, easy peasy. Alain Johannes and I knew each other when I lived in LA. He also recorded Mark Lanegan's vocal when Mark guested on my Fresh Flesh album from a couple years ago. When I asked Alain to do a remix, he was into it but he was living in an air Bnb in Chile at the time, and had been pretty ill as well. But he pulled it off beautifully in true MacGuyver fashion, I thought.
"Kingdom of Sleep" came out the week of lockdown. Once everything shut down, I started writing a bunch of new songs and ended up making a record. That turned into Power and Greed and Money and Sex and Death, which was released just after the election.
I played all the instruments but I got Jane Wiedlin from the Go-Gos to sing on one song, and Hong Wang to play the erhu, a really beautiful Chinese stringed instrument. He plays on all the Kung Fu Panda soundtracks. Jane I met through Instagram, we just started messaging and hit it off. Hong was a friend of a friend of a friend.
These songs are a lot more high energy than "Kingdom of Sleep", though there are a few beautiful, dreamy tunes on it as well. I was listening to a lot of Wipers, the classic punk band from Portland, and I think that helped me be a bit more energetic and direct with these songs.
Can you tell us a bit about your latest few videos, which are quite attractive and cinematic?
"Ghost Like Soul" was filmed at the little theatre above Metro, an awesome rock club and longtime Chicago scene hub, down the block from Wrigley Field. The little theatre is rarely used and has an amazing, decrepit glamour to it, like something out of a David Lynch film. There is an actual ghost who lives in the theatre, as legend has it, but unfortunately we had no paranormal activity while we were there.
"Sign In the Window" was shot driving the streets of Chicago, and prancing around in the freezing cold. Both videos were very fun to make, but this one was definitely more of a challenge—trying to lip synch while your teeth are chattering is a skill I hadn't previously thought about acquiring. There are bigger problems in the world, but hey…
Paul Elledge directed both videos. He is an old friend from Chicago, we've been working together for 25 years on album covers, photos, videos. He is better known as an incredible and legendary photographer, but he is a brilliant video director as well.
I directed the video for In Between Worlds. I found all the news footage and came up with the general concept of me "delivering the news" on a CNN-type station. Joseph Patrick Conroy filmed and edited it. He did a great job. I found him on
upwork.com
and lucked out.
"Completely Surrounded by Love"was directed by Julia Sinelnikova. I just googled video directors in Brooklyn, she was on the first page, and I really liked some of the video installations she had done. Again, totally lucked out and she did an awesome job; she directed, filmed and edited the video. I really like it, it's like a Love and Rockets video or something.
There's a lyric video for "Summer Soldiers", the song Jane Wiedlin sang on, and also a short commercial promo video for the album that I directed. Again, found a guy on upwork – Aleksandar Melov -, he lives somewhere in the Ukraine and did great job with both. The internet man…..
I'm a child of the 80's, I grew up on MTV. I love music videos. They're really fun to make, I wanna do more. They're just expensive to make properly.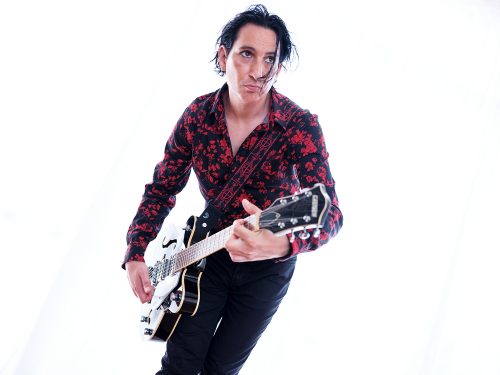 You also toured for many years with a whole array of first-tier artists and worked with many other top-notch acts, including Johnny Cash. Can you tell us about these experiences?
I never toured with Johnny Cash, I played on his last two records, American V and VI. It was all overdubbed after he had died. We were all together in the basement of Rick Rubin's home studio in Hollywood playing along to Johnny's voice. We being Mike Campbell and Benmont Tench of Tom Petty and the Heartbreakers, Smokey Hormel of Tom Waits and Beck, and Matt Sweeney, who's played in Zwan and in Iggy Pop's band with Josh Homme.
It was a surreal and amazing experience. I grew up listening to and loving Johnny Cash, so it was incredibly cool to play on about 60 songs of his (they only released about 25 of the songs we recorded).
Getting back to your question, I do love touring and performing live. I really enjoy playing in other people's bands, and I would do it again if it came up, but I really love making my own music, that feels the most gratifying.
How has the past 9 months of Covid-influenced limitations affected you and your music?
The first month or so, I was as freaked out as anyone. It felt dangerous just to leave the house, you didn't know if you were going to be exposed to some life threatening contagion. I just started writing and recording, and that's how this most recent record came together. I did notice the creative process was way slower for me than usual. Things that normally might take a couple days took a few weeks, stuff like that. Just the stress of what was happening in the world, with Covid, the election, all the crazy incidents and protests in the summer.

Like many people I was deeply affected by the BLM protests, and all of the endless madness happening in the world. Some of those topics seeped into the new songs. But I can only talk about what I see and how I feel about things. I'm not good at proselytizing or shoving any kind of a message down people's throats.
Anyway, I forced myself to thrive under the lockdown limitations. I definitely took plenty of time to watch movies and nap and all that kind of stuff, but I gave myself a project and forced myself to work on it. Work can help you avoid feelings of despair and helplessness, especially if you love what you do.
You toured Europe right before the whole pandemic went into overdrive and lockdowns were imposed across the globe. What do you love and miss about touring and performing live?
I love performing live and especially love touring. I just really enjoy meeting new people and being exposed to new cities and cultures and ways of living. It's very inspiring to meet and engage with so many different people, it's just a good way to have an adventure. Playing music for people is the best. It makes me really happy.

Europe was awesome. I was only there for two weeks but I played all over Belgium, went on national radio a few times, went to Amsterdam and Germany too. The guy who put the tour together is a Belgian reality tv celeb, Otto-Jan Ham. He hired a film crew to follow me around and make a documentary. It will be released in January 2021.
What lays ahead for Jonny Polonsky to the end of 2020 and beyond?
2021 is the 25th anniversary of the release of my first record, "Hi My Name is Jonny". I printed up a limited amount of LPs, it's the first time on vinyl. It should come out sometime in the spring, around May I think. Other than that, make another record!
Thanks again for chatting and we wish you continued success and interesting music adventures!
Thank you! I appreciate the support. Stay safe everybody!! Special thanks to Shameless Promotion PR for arranging this interview.
Keep Up With Jonny Polonski