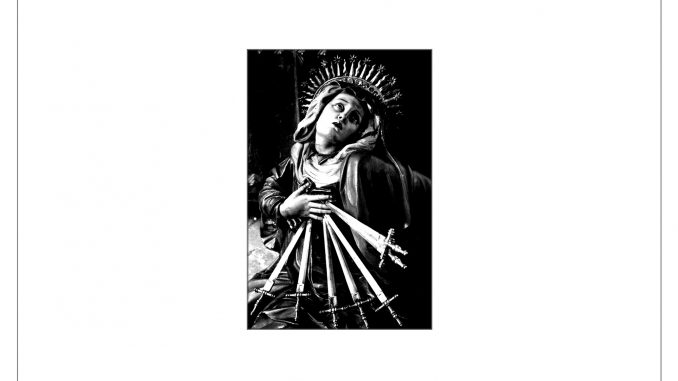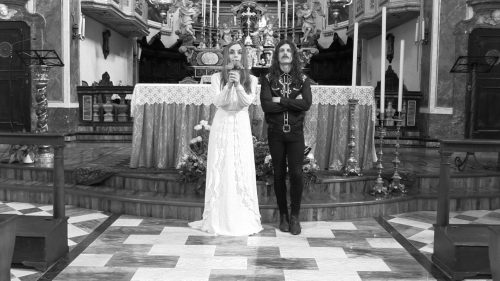 If dark soul-searching through musical depths is your thing, you are going to love the latest offering from psych-folk artist Nero Kane, which explores such themes as death, religion and love. His new album 'Tales of Faith and Lunacy' sees him (real name Marco Mezzadri) accompanied by fellow artist Samantha Stella on a journey that is mesmerizing, intimate, rich and spacious – all at the same time. It's always cool to see that a native European creative comes up with when immersing himself in the desert rock sound America is famed for. in a project full of emotional vision, with elements of other genres thrown in for good measure.
Preceded by the lead single 'Lord Won't Come' and religious Madonna-laced thought-provoking video, this release includes seven tracks that are bound to appeal to fans of Nick Cave, Mazzy Star,  Kurt Vile and The Velvet Underground. This long-play is certainly worth your time, which comes as no surprise considering Nero Kane's level of talent and the fact that this album was recorded and produced by Matt Bordin (Thurston Moore, Michael Zerang, Jackie O' Motherfucker, Delaney Davidson, Squadra Omega) near Venice at Outside Inside Studio. 
'Tales of Faith and Lunacy' is a visionary story with a cinematic flavor – a timeless journey conceived in a personal vision of faith between spirituality and passion. Featuring Samantha Stella as singer, musician and lyricist, and Nicola Manzan (Bologna Violenta) as guest violinist, this record unfolds in a desert landscape where medieval European mystical influences blend with the flavour of the American West to ultimately weave gloomy, minimal psychedelia.
Hypnotic ballads press to the rhythm of a horseback ride through dusty prairies, where echoes of holy women appear in the heat of the day and in the chill of the night, including Mechthild Von Magdeburg, a thirteenth-century Christian mystic, whose writings are quoted on the album. Readings with a gospel ring converge in a crescendo of old-time organ and string music.
His 2018 debut album 'Love In A Dying World' was recorded and produced in Los Angeles by Joe Cardamone (The Icarus Line / Holy War, The Jesus and Mary Chain, The Cult, James Williamson of The Stooges, Warren Ellis, Mark Lanegan), and released via LA art collective American Primitive. His sound has been described as suspended and crepuscular music with the melancholy of Nick Cave and the latest from Johnny Cash blend with sparse psych-folk and stark blues-rock with a distant, lost and frozen voice.

'Tales of Faith and Lunacy' is available on vinyl via Nasoni Records (Berlin), on CD via BloodRock Records, and on cassette tape via Anacortes Records. Apart from Spotify and Apple Music, it can also be obtained directly from the artist via Bandcamp.
ALBUM CREDITS
Recorded by Matt Bordin at Outside Inside Studio (Montebelluna, Italy) and Ettore Franco Gilardoni (Real Sound Studio, Milan)
Produced and mixed by Matt Bordin
Mastered by Andrea De Bernardi at Eleven Mastering Studio (Milan)
Nero Kane: voice, guitar
Samantha Stella: voice, organ, piano
Matt Bordin: guitar, synth, organ, pedal steel
Nicola Manzan: strings
Music and lyrics: Nero Kane except tracks 2, 4 and 7 (lyrics by Samantha Stella)
Keep up with Nero Kane
Website | Bandcamp | Facebook | Instagram | YouTube | Twitter | Spotify | Apple Music | Press contact