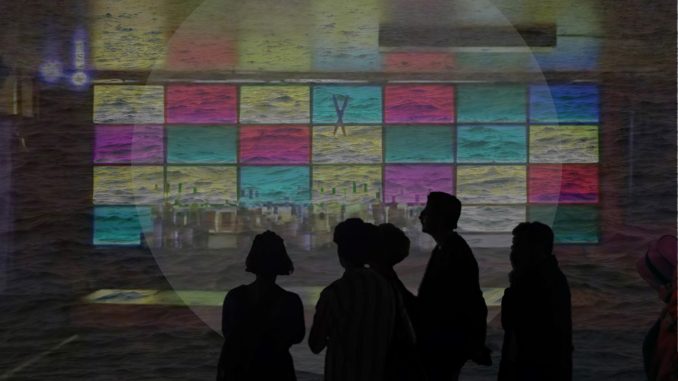 Τhe unfortunate 2020 wants our attention on everyone and everything and please think like this; It is NOT music that will change the game and save the world, but it is the best agent to have fun with and why not, the best way to protest our views, struggles, happiness, anger, etc. Also, don't follow idiots who think in their private blindness that the Earth is Flat. Flat is only their minds. Now turn this one Loud, please!!! 
The amazing first single 'I Can't See The Light' from upcoming release by LA's grandiose psych' shoegazers Tombstones In Their Eyes!!!
Actors Terror! Actors Splatter! Actors! Actors! Actors! 'Love U More', Hail post-punk Canada!!!
The Sea At Midnight from LA again with 'We Share The Same Stars' from s/t debut album, skilled and very honest darkwave music origins!!!
LA dreampop / shoegaze duo Magic Wands have announced they will release their fourth long-play in early December. Ahead of that, they present us a sweet teaser in the 'Angel Dust' single!!!
Stalwarts of the modern 'psych' genre, they are known for their prolific discography of reverb-drenched recordings and liquid-projected live performances. I am talking about – The Asteroid No. 4 on a pure psych' shoegaze spectrum and am 'Losing Touch With My Mind'!!!
Amazing new dreampop/ shoegaze music by Whimsical from Grffith, Indiana, look; "While we finish up our next EP release, we thought we would share a new song in the meantime", and it is a marvel track!!!
LA-based indie rock duo The Roogs present their self-titled debut album, a collection of tracks that is honest and hopeful, combining the ethereal and the aggressive, and the personal with the universal. Try 'Decoration', please!!!
Some thousand decades ago, Cabaret Voltaire released their last opus. Now, 'What's Goin' On' is taken from their new album released on 20 November 2020. I say no more, enjoy no wave!!!
Italian hunters The Midnight Computers is a very sick and amazingly aggressive act. 'Succubus' comes to your speakers to verify their class and my words too!!!
'The Minimum' is the first single from upcoming album by German-based icons Diorama, and Diorama are the kings of dark-electro-Europa!!!
Seattle's electronic scene is an amazing world alone and here is Thrillsville with 'The Fever' from upcoming album, an electroclash/ futurepop bliss!!!
She is known as Madmoizel, also as Dame De France. She is the hell of an electronic craftswoman and a performer who can shake all heavens and hell too. From France with love and her cover on the infinite anthem 'Bela Lugosi's Dead', Live @ Les Nautes – Paris!!!
'Zipper' from Metaman remixed by Ectroware, all these from Athens GR, the urban sleazy city's soundtrack!!!
Mechanimal, Athens-GR, official video of 'La Poverina Delle Ossa', sheer ambient industrialism in one act. – The story of our lives as we never asked for it!!!
Das Noir is a darkwave project from Athens GR. 'The Night (Metal Disco remix)' is taken from the s/t EP released November 2020!!!
Incirrina Athens GR is a top class analog electro darkwave duo…want more? Focus on 'Dance Of The Dark', please, as the whole international dark scene deserves an act like this!!!
Exactly the same goes for Paradox Obscur, here is a taste off their new work and it is chameleon dark music elite…'Deep down In the Box'!!!
Ratpajama, Ceara Brazil, coldwave electropunk music in 'Lacunas Abissais' which is on repeatrepeatrepeatagain!!!
We keep on showing the works of Black Needle Noise and we won't stop, no! Here is one amazing cover on the original The Black Crowes' song 'She Talks To Angels', with Anjela Piccard at the front and John Fryer to the core!!!
'Your Best Nightmare (live)' from the album 'Live From Isolation' by LONDON AFTER MIDNIGHT. We hate isolations we love post-gothic-rock and we simply adore this historic act from LA!!!
She is Suzi Sabotage from Helsinki's morbid deathrock act Virgin In Veil. 'Persona Non Grata' will be included in her first solo LP at the beginning of 2021. All things Scandinavia, synthpunk, cold(as-ice)wave are in here like a tempest with style!!!
Speaking of Virgin In Veil…here is an old song from the band from Finland, believe in deathrock and save your soul!!!
Tristan Victor from Maryland is Kiss Of The Whip. Here is the official video of 'Be Mine' off the last album released October 2020. Amazing goth-epectronica synthwave music by a very talented guy, watch it loud!!!
Everything Echoberyl is always dark, sweet, amazing, and original in the heart. Here is 'Mutation' from their last album. The noise around their name two years ago wasn't only a flash, Echoberyl rules!!!
Do you believe in dark electronic pop music? Marva Von Theo have all the credentials to steal your soul-apart. 'Ruins' will be on their new album that is slated for release…soon I hope!!!
'Lord Won't Come' by Nero Kane. Hear this lament that is attached to the wrongfully forgotten genre of gothic-desert-music and tell me…do you think they are Coloradoans, Arizonians….? They are not even Americans and I dare you to watch and seek the links in the following video!!!
Sometimes it takes a while to realise what you've got. So it goes with pop craftsmen Candy Opera, who emerged during Liverpool's 1980s musical golden age and whose new album sees them release their first collection of new material in nearly three decades. My Respect, oh yes, My Respecto to the band that still teaches indie music!!!
The last one is a thunder from the past, I recall I listened to it in the compilation 'Sharks Patrol These Waters' before the band's debut album. Tear your little world apart and bye bye, see you soon!!! Keep Up With Noise Journal, more terrords are on the way!!!
Playlist curated by Mike D.