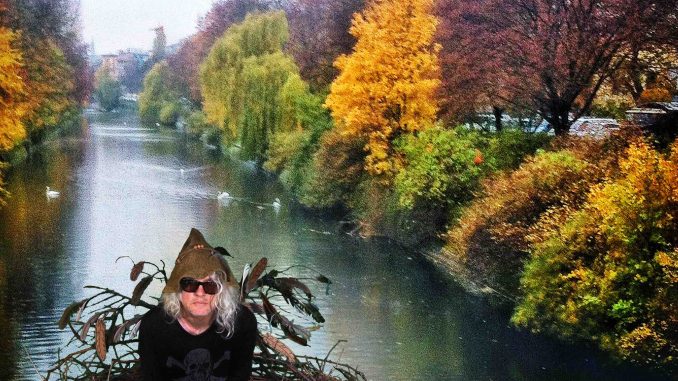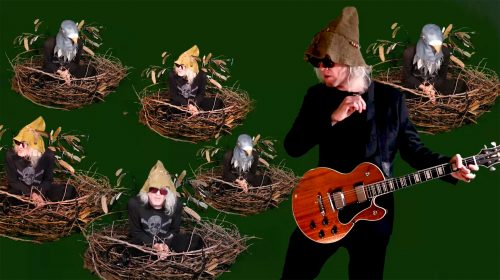 Psychedelic singer-songwriter Anton Barbeau releases his new 'Manbird' double LP today (September 18) via Gare du Nord (UK) and Beehive Sound (USA). It is a collection of 25 new songs, written in Berlin and on a farm in Auburn, CA. The title takes inspiration from the film 'Lady Bird', a coming-of-age-in-Catholic-school story set in Sacramento, where many of the film's locations are well familiar to Barbeau.
Here we have an absolutely cozy, groovy, and a delectable release. The menu has pure psychedelic music accompanied by fresh indie goodies, a lot of krautrock original tastes, and all on a modern alternative pop/ rock production palette. 25 songs that are all making a quite ambitious release with really good music for everyone.
Hitting the 30+ album mark, it would seem inevitable that this Berlin-based Sacramento-raised artist would release a bird-and-suitcase-themed autobiographical double album focused on his hometown. While reviewers always seem to refer to the holy triumvirate of XTC, Julian Cope and Robyn Hitchcock, 'Manbird' doesn't reveal any obvious influence. The whole album is a Jungian travelogue of memories, dreams and reflections, with Barbeau's unique blend of psychedelic salt-and-sugar pop augmented by unexpected elements that play a part in his story.  The first single and the leading track of the album is the s/t song, along with a video created by Julia VBH. 
Recorded in Berlin, Oxford, Paris and California, Barbeau deliberately tried to involve many Sacramento musicians, including Vince Di Fiore (Cake) and Jonah Matranga (Far). While Barbeau has worked with drummer Michael Urbano (Todd Rundgren, Neil Finn, Cracker) and bassist Larry Tagg for years, 'Manbird' marks the first time the Bourgeois Tagg rhythm section appears together on an Ant album. Other guests include wyrdfolk musician Sharron Kraus and Bryan Poole (Of Montreal/Elf Power).
Some other tracks that will help you see the whole picture are, 'Featherweight' that surpisingly the pure punk bullet of the record, or 'Beak' from the psych-kraut streams, these two from disc 1. Carrying on to disc 2 you will hear a more colorful perspective on the new sounds psychedelic music. Try 'Don't Knock The Mockingbird' for some fellow-psychedalia with a bottle of something on the table, 'Auslanderbeak' for a slice of a pagan-psychedelia in only 90 seconds (a supreme idea in here), or 'Even The Swans Are Dirty' because krautrock is a religion-similar-to-rock-and-roll.
But Anton Barbeau may fairly have a different view from me, he says; "There are a few moments where I play with the image of other acts I adore   Fear of Flying' is meant to have a taste of the drum sound from Fleetwood Mac's-'Brown Eyes' and 'Memory Tone' was me trying to write an ABBA song! These are both bands I grew up disliking immensely. During the course of making Manbird, though, I fell firmly in love with both. I slip into 'Bowie voice' for a section of 'Across The Drama Pond' and the bass is meant to have a bit of Devo to it, but all in the service of my new wave roots."
Also, In Oxford, he assembled a chorus of singers for the album's final session. 'I'd hoped to gather lots of singers for the record, to have a sort of Greek chorus answering me in various songs. I wasn't able to put it together as hoped, and mostly, I'm acting as my own Greek chorus," says Anton Barbeau, who also worked up a special Oxford Variation of the title track, ('Manbird Oxford Variation', disc 2) featuring his Ox cronies Su Jordan, Sharron Kraus and Stornoway's Jon Ouin.
Such an epic release by our guest today, and such a huge work all over in this new double-album by all means. As of September 18, the 'Manbird' LP will be available across online platforms, including Apple Music and Spotify, as well as on CD. It can be ordered directly from the artist via Bandcamp. Song-by-song notes, video, behind the scenes information and more can be found at antonbarbeau.com/manbird
Keep up with Anton Barbeau
Website | Bandcamp | Patreon | Facebook | Twitter | Soundcloud | YouTube | Instagram | Spotify | Apple Music | Wikipedia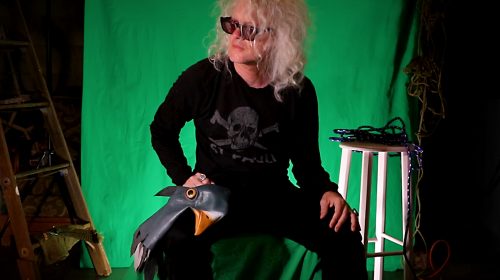 Written by Mike D.