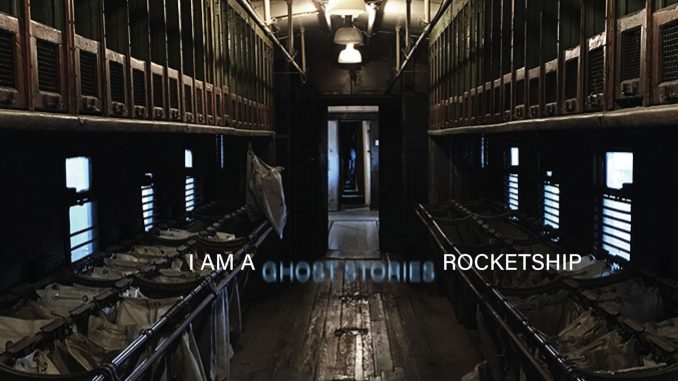 Right after a year from the release of their debut album 'Mind Grafitti' Atlanta's indie rock duo I Am a Rocketship returns with the sophomore 'Ghost Stories' LP which releases today, April 30.
Things are not so easy 'indie rock' with I am a Rocketship, you see, the band comprises of Eric Weissinger (A journeyman bassist and guitarist) and L E Kippner ( a Swedish cellist, scientist, radio DJ and singer) whose music draws from memories of 80s pop, hip-hop overheard on Atlanta streets, Bernard Hermann soundtracks, and Neue Deutsche Härte to make bedroom pop with an edge, sort of. On the other hand they are also so very keen on rock-driven music from the 70s up to the current spacerock oriented indies. Difficult to explain it but quite obvious all the way through in their songs. And if their debut was a really good one, this year the Rocketship pushes it a bit forward and that's nice! Let me show you something, 'Give' is track 7 in 'Ghost Stories' album and it goes like this!
I Am a Rocketship merges cool Scandinavian vocals, pop hooks and a dash of experimenting. Layering dark lyricism and fuzz guitars over pop grooves as they create a notably attractive hybrid sound, don't you think? 
The leading track of the album though is 'My Nature' and it appeared about a month ago on their YouTube channel. Here the Rocketship gets in a more groovy rock and roll indie mood with nice riffing, the appropriate sounding and that one ace who is L E Kippner. "The song 'My Nature' is both fun and threatening. Sometimes people can want to help you, and really care in their own way, but they are inherently dangerous. We probably all have known people like this, who just seem to leave a trail of destruction despite their best intentions," says vocalist L E Kippner.
So, we have two skilled musicians with clear talent in presenting different blends of ideas that are always under their indeed trademark style of performance, and sounds. You'll see what I mean at the closing of this review. 
The album is like it separates in two sides A and B. On 'A side' the album plays with more alternative pop hooks from bedroom pop, to occasional trip-hop flashes and you may hear them all in 'False Impressions', 'My Nature', 'Ghost Stories', 'Come Along', and 'Crush'.  Track 6 'Resolve' is a very special tune in the album as it appears like an anthem dedicated to their best Americana influences, and it rocks! 
'B side' with 'Give', 'Walk With Me', 'Five Points', and 'You're My Angel' is in a more guitar driven style with hidden glories that you will discover yourself. The closing track 'The Spectacle' comes as the best tune to end an album with as it is cleverly placed in its whole trip-hop style, and there is more delight in it as it is sensual and a pretty unique song!
And as I thought that this was it with this pretty talented band, a thunder strike across my window. Without any shout at all, I Am a Rocketship published another song that is not included in the album. I am wondering why 'Shooting Star' is a song alone out there. This one is a grandiose music setting with a fantastic video clip too!!!
Keep up with I Am a Rocketship
Written by Mike D.