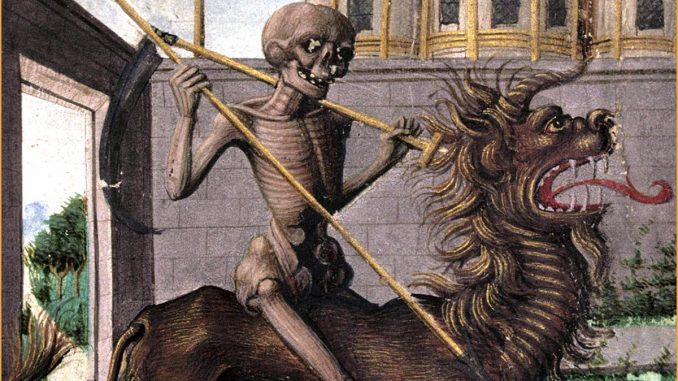 "Sainte-Mort is running the land and roaming the ocean. Sainte-Mort is Rubin and Anton." Just a few simple words taken from Sainte-Mort's Bandcamp page hinting at the prospect of an experience — something which should be at least an impressive audition.
Yes, but their new album, Holy Day à Sainte​-​Mort, is not only an impressive album — it is one of the most imposing records of the year with ace sound and a monumental performance in the studio by those Canadian electro-raiders Rubin and Anton.
Sainte-Mort from Montreal displays electro music in the flesh, featuring some pretty attractive dark-wave elements that are all mounted on their eight brand-new sonic stories, revealed as a peculiar event horizon all the way through the album. Electro, synthetic and synthesized music which appears and sounds as a call to the dancefloor, with a clear invitation to an electronic world sounding abundant yet strict and, as expected after all, groovy as hell.
I am nailed and very impressed by the ideas of S-M. They leave nothing unanswered as they navigate their musings with clarity though their own trademark and outlandish style — Châteauneuf being the lead track.
They also bring horrors with them as they accommodate a little weirdness and a pretty interesting cinematic 'cult-movie' approach which may sound both serious and like a sonic comedy at the same time. Comedy is a fine art, you know; see Troglodyte.
They carry 'occurrences' with them, they story-tell 'curses' — and maybe a hideous case, too – applying it with a groove extraordinaire, and the persistence to cast it all away … listen, or sing along, with Innomable.
They perform dark-wave chants in their own electro reality through looped and monotonous sadness, a bilingual and a sensual approach: Kétos.
They offer stunning, industrial-oriented stellar sonic pressure when they 'describe' the advance of decomposition … try Carcasse. 
In the closing track of the album, it all sounds as a call to their next record: Horns over electro music call on to the next episode over tortured dance floors. Or is it something privy and malicious in Commanderie?
These are my stream-of-consciousness thoughts and words on the second album by these two electro-raiders from Montreal who offered a simply outstanding record in all.
The whole album has the flux and flow required for such an adventurous trip — a solid production with compact sound everywhere, and finally, a duo which revealed their original talent with so many glorious ideas to progress the genre.
In 2017, though, they published their debut album, Kondiaronk, which is way different than Holy Day à Sainte​-​Mort. You have to also check it, as it was (as they say themselves) "Recorded during the annihilated 5512 Kitchen Overdrive Sessions".
But for now, turn it all louder and start with their latest marvel!
Keep Up With Sainte-Mort
Written by Mike D.