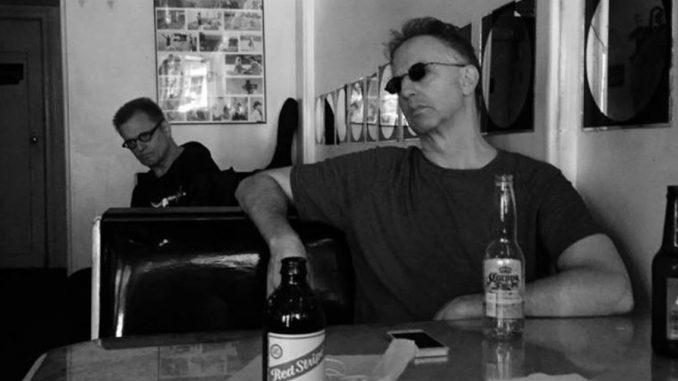 Perhaps best known as an innovative avant-pop saxophonist and through his collaboration with The Residents, NYC-based artist Norman Salant is releasing his new album 'Always All Around You' ahead of the winter holiday. This long-play was produced by JP Bowersock, known for his guitar work and recordings with Ryan Adams, and production work and guitar supervision on all The Strokes albums, having been Julian Casablancas' guitar teacher prior to that.
Norman Salant's latest album is a breath of fresh air, with its catchy songcrafting of catchy pop-rock-folk hybrid. With obvious sonic references to Simon & Garfunkel, his music is also very much on point in today's society.
Originally from San Francisco, Norman Salant is also a composer, producer, avant-gardist, psychedelicist and sometime martini-maker. Salant's rich history also involves collaborations with Romeo Void and a duo with Romeo Void's Benjamin Bossi, as well as with Lynn Mabry (Sly & The Family Stone, Parliament–Funkadelic, Brides Of Funkenstein, Talking Heads). But in the past few years, Salant has been more focused on songwriting, guitar and singing, complete with all the euphoria and discontent. Comprised of 10 tracks, 'Always All Around You' is a singer/songwriter Sgt Pepper – an amusement park of sound and style rooted in indie rock from pop to folk to Americana to rock to psychedelic funk. There are colors everywhere, from minimalist to full-blown psychedelic, heavy on mood with the music stoked in storytelling and poetic imagery. This album follows Salant's album 'Yodeling Goodbye', released in the spring of 2018. Effectively Salant's first full-length album as a singer/songwriter after a lengthy incarnation as an avant-garde saxophonist, composer and producer. The songs on the new album explore similar themes, but this time around, the emphasis is less on life and death and more on the world we live in and various states and perceptions of it.
"The new album is an attempt to look at what's going on in the world within the lives and relationships of people, what it's like to try to live now, intelligently and with compassion. Most of the songs are character-based and the music tries to make their struggles seem beautiful and wonderful, aspirational, worth living for," says Norman Salant. "I'd really thought that albums were over, and that music was being experienced mainly as individual disconnected songs, but happily I was very wrong. The album concept is alive and well, and it's great that artists can work with larger thematic ideas, and it probably accounts for the renewed interest in vinyl too."
A welcome offering. His songwriting aims to put a face on the elements of life that move him most. They're songs for today: melodious, intricate and subtle, with lyrical wordplay and large themes, poetic and honest. These are deceptively simple songs with a complexity that is not apparent at first glance. The Beatles, Bob Dylan and Simon & Garfunkel all seriously influenced his songwriting, as did Pharoah Sanders, John Coltrane, Brian Eno, David Bowie and Brian Wilson. Growth and change are the hallmarks of Norman Salant's musical career. His 20 years as saxophonist and composer flowed smoothly as he moved from project to project, staking out new territory, exploring it and moving on. In late 70s San Francisco, he spent time with the Mission District poets gathering at Kush's legendary Cloud House, absorbing their influence. He soon founded his signature Norman Salant Group, a new wave band fronted by saxophones with no singers, and then co-founded the Invisible Man project with musicians Roy Sablosky and Gregory Jones, merging electronic music, dance grooves and pop structures with vocals and lyrics. Having released several groundbreaking albums of experimental sax-pop and experimenting in new territory, layering dozens of saxophones and enhancing them all electronically. But throughout his saxophone career, Salant periodically took breaks to pursue songwriting.
"I eventually did a complete 180 to songwriting. After years of working in a nonverbal form, and with many ups and downs to draw upon, putting that experience into words proved seductive. The verbal, personal, poetic thing, it really just resonated. Everything I know, everything I hope for, goes into every song," says Norman Salant.
As of December 8, 'Always All Around You' will be available via online stores and streaming platforms, including 
Spotify
 and 
iTunes
. It can also be ordered and streamed via 
Bandcamp
.
Keep Up With Norman Salant