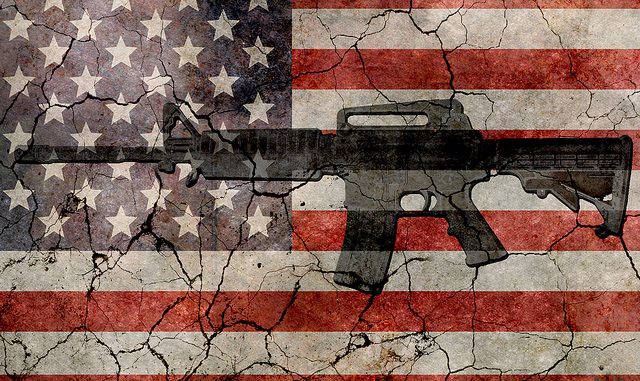 The United States of America, population 325,908,238 as of Thursday, February 15, 2018, per the latest United Nations estimates. A big and fertile nation built by immigrants on lands haunted by the slaughtered ghosts of its natives. The first flag to be planted on the moon, pioneers in medicine, bloody and nailed-to-the-cross for human rights, jazz and its perverted child, rock n' roll, Howard Zinn, Kerouac, I Have A Dream, Black Flag, Jell-O, Burning Man, Jefferson Airplane, Slayer, the Chili Peppers, Lollapalooza…Einstein, Test Pap(anikolaou), the internet, Kubrick, Mustang Bluebird, Detroit, East, West, Colorado, Arizona (Indian Doll), Cobain, "Naked Hands" M – NY Philarmonic, Andy Warhol, Basquiat, Father Johnny Cash, Elvis, Baez, Patti Smith, millions of scientists, millions more activists, and tens of millions who love life.
These are some of your blue skies, my people from the country of the Statue of Liberty…with justice for all. Recover please, refuse "bosses," don't fear diversity, don't buy guns–do not obey fear…and stop dropping bombs all over like Skull and Bones. Please. You don't win shit out of it, you make enemies. With great respect, much love, and a slap on your asses signed by Europe, Africa, Asia, Down Under, Latinos:
When the garden flowers, baby, are dead, yes, and your mind, your mind, is so full of red…Don't you want somebody to love?
I am the last to put a country on chains and throw stones to retaliate over its ICU body, wouldn't be fair, would be evil instead. Love life, break down all ghettos of mind and soul and get seriously involved in politics. Change the damn game: Florida – more venues to be announced??? Like that??? Let's listen to Mr. Les Paul and Mr. Fender preaching together with R. A. (Bob) Moog and look for the Woodstock we seek in life.
Faithfully yours,
-Noise Journal.
Tango With Lions from Athens GR and What You've Become published this year. Sit, sit and let me tell you about our sins…
FVCK TRVMP from Earth with their Blood Coming Out Of Her Eyes single released yesterday, deranged electronics with a purpose!
Vanessa with Pylon Reenactment Society from Georgia and Beep! Beep-Beep anybody listening? Live recording and a band that tears with no tears!
Australia, Melbourne and Mod Con, three girlfriends of ours that are critical (politely pissed) on their Neighbourhood, garage alternative from Down Under! Garageous Australis!
We Are One Records/Mexico released an astonishing free to download compilation on February 14. CROUZET with Catharsis (Κάθαρσις) nailed us, no pain!
Italia! Syracuse! Moonshine Booze comes with no regrets, party all night long with the band, with the booze and the lads on the floor being polite and sleazy as rats, album releases in March when the flowers go hanged-over, listen The Place!
Hungary is a beautiful country, has its capital split on the shores of the river Dunabe, Buda and Pest: Budapest. Belau comes from that beautiful city and here is their Redefine single, blended with Hungary's certain quality in arts, smooth electronic, as pop should be!
Noctifer from Barca-Catalunyan soils and the Black Moon dark trance in his soul, astonishing effort for no masses!
Seattle plays electronics! ELYXR is in the mood of POP electronix and they do it good! Seattle!
Please give this Paul Littlewood a band! Yorkshire's brit indie-pop lad plays the English mist we all adore, and here's Television which fills cups!
Norman/Oklahoma pust-punk rookies The Lost End play loud, compact and muddy, Signs That Guide!
Bradford/UK They Called Him Zone (name LOL), electrocution and bleed in Death Drive! The Daniel Ash Cult! Faboulous!
Esthonia's Holy Motors, beatiful band, beauty in deed in their alternative rock! Signs was released few days ago!
Anna to Mike: "There's an Ocean In Your Heart", Over._____________________________________I died yesterday.
Here's ELYSIAN from Atlanta, post-punk? No!….deeeathrockRuuuulesssss….withooonly a Twist Of The Kniiiiifeeee…brilliant stuff!
Mexico, Cruz De Navajas and Depuracion…everytime I think off you I fade and die. Die.
Italia/Torino and the moniker Low Standards, High Five with their alt.shoegaze stuff Silent Decor, pretty weird, pretty serious!
Tricky feat Avalon Lurks, Doll Parts…doll eyes, doll mouth, doll legs, doll arms, Doll veins, Tricky!
Seattle again, him and her: Watch Clark and/with Naked Beats! EBM still Rules!
Rachel Mason from New York with Time to Resign Feat. Donald Trump, sick, amazing, funny, thumbs up and a serious message too!
Last but not least Our Mancunian poet Mr. Equinox who narrates his poems on the mic as he is the new Senser in the pit: Kiss!
PS-the band Faith And The Muse performing  Annabel, shot from a fan who was really in the camera mood, most respect, and a great applaud to The Evidence Of Heaven!
NOISE JOURNAL