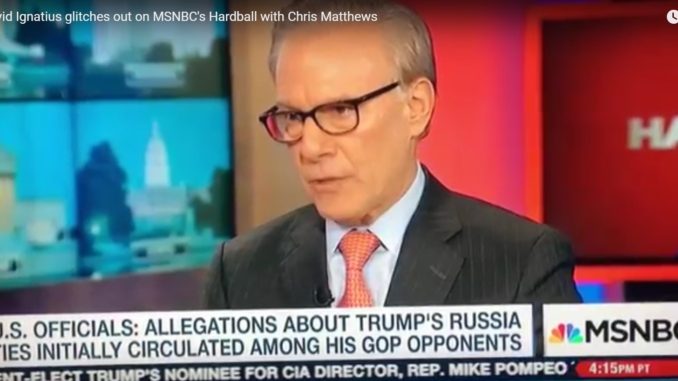 While we all anxiously await the second season of HBO's Westworld, viewers of MSNBC's Hardball with Chris Matthews were treated to a real life host-like glitch from guest commentator David Ignatius thanks to an apparent network error.
Ignatius, who is also an associate editor and columnist for The Washington Post, appeared to suffer a verbal malfunction kinda sorta like the android hosts of the eponymous "adult amusement park" of Westworld. Here's cell video footage:
And a dash of intrigue: The glitch happened just as Ignatius said the word, "Russia." As in, two of Trump's nominees bucking the president-elect during their hearings to "claim they'll be hardliners on Russia." Earlier today, C-SPAN saw its live feed of congressional footage knocked out and taken over by Russian state television. Though nobody really seems to know what to make of that glitch, C-SPAN is saying–publicly, at least–that it was probably a weird back-end mistake. Here's Aaron Rupar of Think Progress:
C-SPAN didn't immediately respond to requests for comment. But later Thursday afternoon, the station posted a statement saying staffers "are operating under the assumption that it was an internal routing issue."

The incident occured six days after the U.S. intelligence community released its declassified intelligence report about Russia's meddling in the presidential election. A significant portion of it details RT's efforts to help Donald Trump.
Are the two connected? I'm guessing not at all. Still an odd, dystopian moment of serendipity.
NPR's Jeremy Hobson noticed, as well, tweeting it out with perhaps a better hook: the hardball REMIXXXXX
Whoa it's the @hardball REMIXXXXX pic.twitter.com/l1ZILZPIe4

— Jeremy Hobson (@jeremyhobson) January 13, 2017