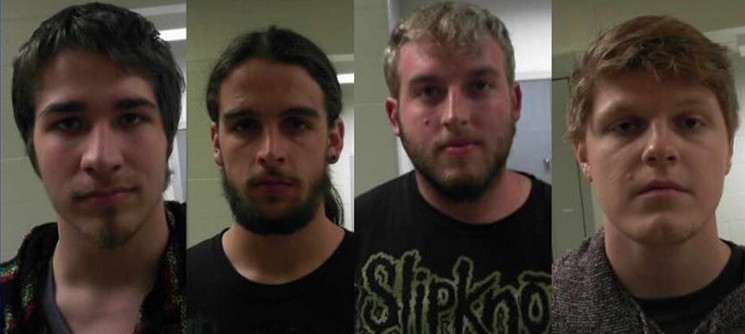 A word of warning to Missouri residents (and those just passing through): Don't get pulled over with marijuana in your car. Four young men who were allegedly returning from a trip to Colorado were stopped by the police in Marion County, MO, and now face up to seven years in prison for "distribution and delivery of less than five grams of marijuana."
Less than five grams. That's basically an eighth, guys.
The local NBC affiliate WGEM broke the news with typical breathless sensationalism, quoting one Sheriff Jimmy Shinn:
Deputies arrested Brandon T. Stoll, 21, Zachary McDaniel, 22, Chad Butcher, and Joshua Beers, 21.

Deputies say they found THC-infused drinks and mixes, marijuana, THC-infused vapes, marijuana max and drug paraphernalia.

Shinn says the four were issued warrants for distribution and delivery of less than five grams of marijuana.

Shinn says it's becoming more common to catch people bringing marijuana back from Colorado, where the drug is legal.

"This is one of multiple arrests that have been made recently of individuals traveling from Colorado to other states that we're stopping," Shinn said.
You get that? MARIJUANA MAX! As Denver's Westword points out, the confused souls at WGEM must have inadvertently flipped a "W." Powerful stuff.
The clueless local news reporters then sought answers from Healthcare Counselor Wayne Gilliland who issued dire warnings about the potential of marijuana concentrates for abuse and dangerous addictions:
"The concentrated THC in a lot of these products is far greater than your typical marijuana cigarette," Gilliland said. "Matter of fact, with a small amount of product you have a large amount of THC."
Never mind that marijuana is the safest drug out there, with zero recorded overdose deaths (as compared to, say, the 88,000 alcohol-related deaths in America each year). And disregard the wasted manpower and taxpayer money. Facts be damned because Sheriff Shinn is in town and he's gonna get himself some more marijuana criminals behind bars:
Detective Tyler Wheeler says the sheriff's office is shifting more of its focus on the trafficking of illegal pot and other products from state to state, hoping to slow what's a growing trend.

"Right now we're ramping up patrols and watching the highways."
Hat tip to Westword–head on over to watch the full NBC report.