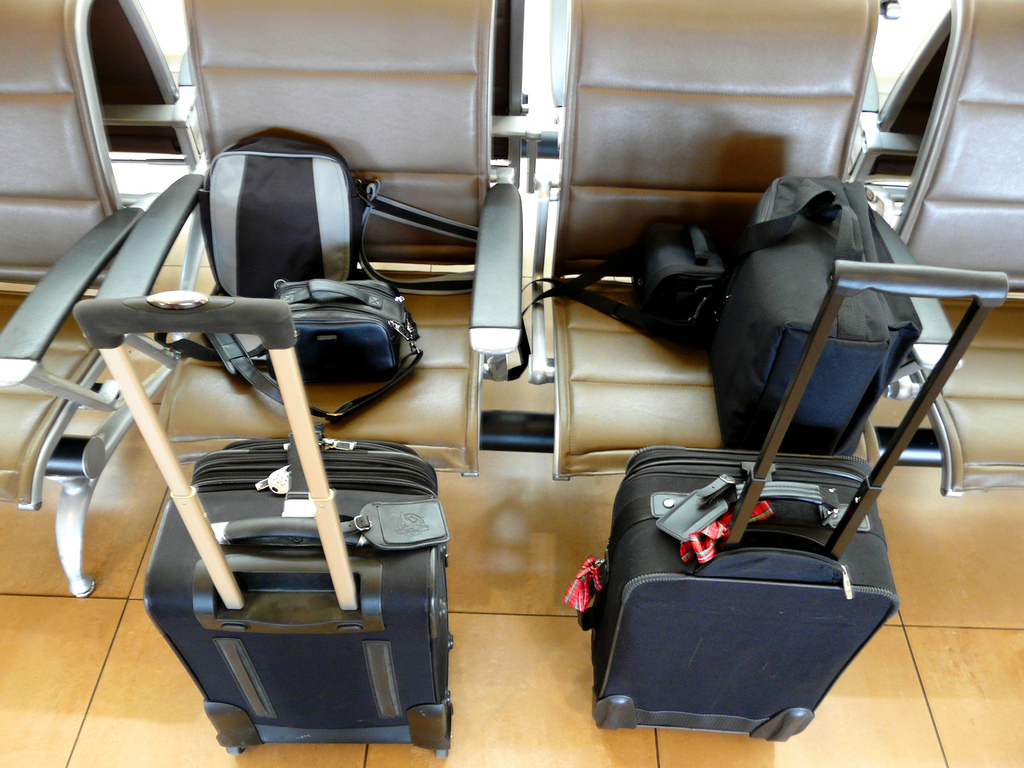 First they came for your complementary alcoholic beverages and hot meal, then they took away your snacks, blankets, and pillows, and began charging you for checking luggage and—in some cases—your carry-on. Now the airlines are seriously considering forcing you to buy a new suitcase or risk being told at the gate that the rolling bag you've been using for years is no longer acceptable. They'll be more than happy to check that for you, though; and, oh, that will be $40, thank you very much.
On Tuesday the International Air Transport Association (IATA)—the trade group that represents most of the world's airlines carrying 83% of global air traffic—announced new guidelines that would significantly reduce the size of allowable carry-on luggage for its passengers. From the press release:
Working with airline members of IATA and aircraft manufacturers, an optimum size guideline for carry-on bags has been agreed that will make the best use of cabin storage space. A size of 55 x 35 x 20 cm (or 21.5 x 13.5 x 7.5 inches) means that theoretically everyone should have a chance to store their carry-on bags on board aircraft of 120 seats or larger.

An "IATA Cabin OK" logo to signify to airline staff that a bag meets the agreed size guidelines has been developed. A number of major international airlines have signaled their interest to join the initiative and will soon be introducing the guidelines into their operations.

"The development of an agreed optimal cabin bag size will bring common sense and order to the problem of differing sizes for carry-on bags. We know the current situation can be frustrating for passengers. This work will help to iron out inconsistencies and lead to an improved passenger experience," said Tom Windmuller, IATA's Senior Vice President for Airport, Passenger, Cargo and Security.

IATA is working with baggage tracking solutions provider Okoban to manage the approval process of bag manufacturers. Each bag meeting the dimensions of the specifications will carry a special joint label featuring IATA and Okoban as well as a unique identification code that signals to airline staff that the bag complies with the optimum size guidelines.
In the accompanying video, IATA's Senior Vice President Tom Windmuller went on to explain that these special bags "are being manufactured already…and should be hitting stores later this year…major manufacturers of all the bags are interested in this and will be coming onboard in the near future." This was preceded by what seems like a veiled threat, as Windmuller stated that this new process was "designed to make things easier for everybody, first and foremost for the passenger [who will] know that if he or she buys this bag they will be able to take it onboard a growing number of airlines. They don't need to be concerned about the size of the bag and whether your airline next week or next month will accept it." [Emphasis mine]
You got that, people? Go out and buy these new, smaller bags because you never know which airline will arbitrarily decide that they no longer accept your luggage at the gate. Better safe than sorry!
This shouldn't come as a shock. It's common knowledge that the constantly merging airlines have been colluding with each other for years to provide deteriorating service and rack up tens of billions in fees for upgrades and "rewards" that used to be standard and built into a ticket's price. Is it any surprise that the multi-billion dollar luggage industry want in on the action? Tumi, Delsey, and Samsonite are already on it.
It should be noted that this is simply a recommendation by the IATA, but Lufthansa, Emirates, and Qatar Airways already plan on enforcing this as policy, and the trade association is "confident that over the next several months we'll get a number of major airlines coming onboard."
Watch your wallet.