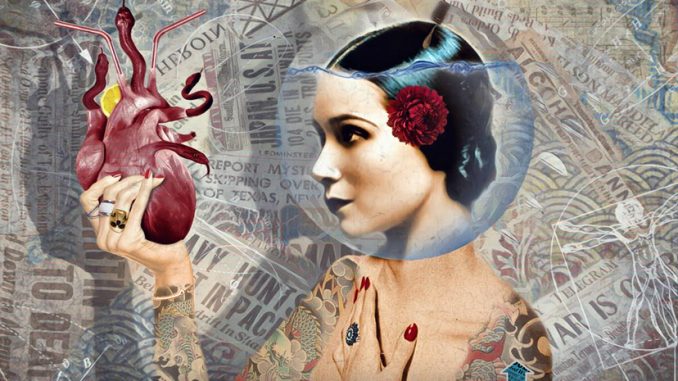 Moonshine Booze present their new 'Pandemonio'album, released on January 15 via Overdub Recordings.  This is the band's second album, following up their 2018 debut album 'Desert Road', released via Seahorse Recordings. Ahead of this new LP, the band released two singles: 'The Hole'and 'The Tide', each having its own surreal boisterous video (the second is directed by Jessica Montebello).
Moonshine Booze, Andrea Manila (vocals), Emiliano Zapata (guitar) , and Fabio Manchos (drums), formed in the summer of 2014 in Teramo, Italy. Initially, this band just wanted to put out a series of classic covers from Johnny Cash to Robert Johnson, Muddy Waters, Little Walter and J.B. Leinor, but this has turned into something so much more. Combining grit blues-rock with alternative country, Moonshine Booze's music has been described as psychedelic country blues-tinged rock, as well as brazen desert alcoholic acoustic rock.
Certainly with such influences and also with such a will to sleaze it all with their unique and so serious/ funny humor, they provoke interesting reactions in their music. Some say that MB is a rather Tiger Lillies oriented company that plays rock and roll music; I totally disagree because MB are not like that. Even if the band has that humorous and sarcastic spirit similar to the Lillies, they don't play narcissus on stage, and they don't create that "cabaret" trend for themselves to embrace and follow it forever on stage.
MB are these guys in life you drink your booze with and talk about everyday life that after drink #3 that same life turns out to be ridiculous, annoying, strange, funny, and weird. Life for these lads is not the bar, but they will go to the bar after work to learn more about it. Life is not anything metaphysical for them, as life is good and nice and loving and sleazy and mad like they are too. I speak about their lyrics, and I also speak about the nature of their music!
'Pandemonio' LP showcases the band's unique alt-indie rock with bizarre variations; a twisted and cynical mixture of spaghetti-rock soaked in bluesy tones. Through hard work with retro style arrangements, plenty of colour has been injected into all 15 songs, appearing in a specific order to create a linear journey. The raw, cutting and electrified sound is framed by their vision and extravagance.
The album is available everywhere digitally, including Apple Musicand Spotify, and it can also be obtained directly from the artist via Bandcamp. Released through Overdub Recordings, this record is distributed throughout Europe, in both digital and in physical formats, via code 7/Plastich Head.
Keep up with Moonshine Booze
Facebook | Soundcloud | Bandcamp | YouTube | Instagram | Apple Music | Spotify | Booking | Press contact
Written by Mike D.