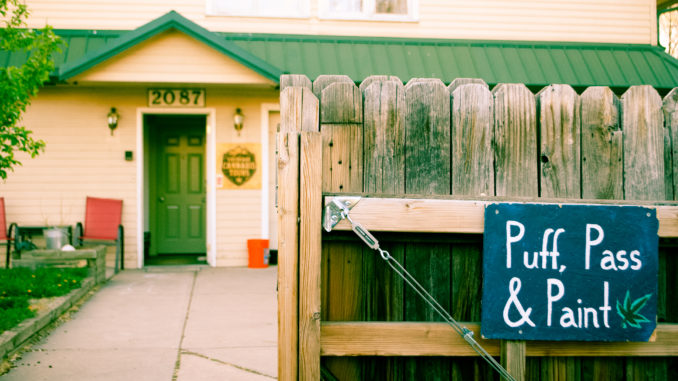 Scroll down for the entire photo gallery.
You've heard of canvas and cocktails–and you might even be familiar with its cannabis cousin, Puff Pass & Paint; but there's a new creative session in town, and it's all about puffing and making pottery.
Puff Pass & Paint was founded in 2014 with one idea: Allow people to channel their inner artist through the creative power of cannabis. Tyler Joyner, the company's administrative director, took some time to chat with us back in April before we visited the pottery session. Our photos are posted throughout.
"Our whole goal is to incorporate creativity in cannabis," Joyner said. "Because we feel it can be healing whenever you do both of those things together. We think it can help us facilitate more of a creative experience, touch something that's inside of us and find some kind of retreat from the world–some stress release in some capacity."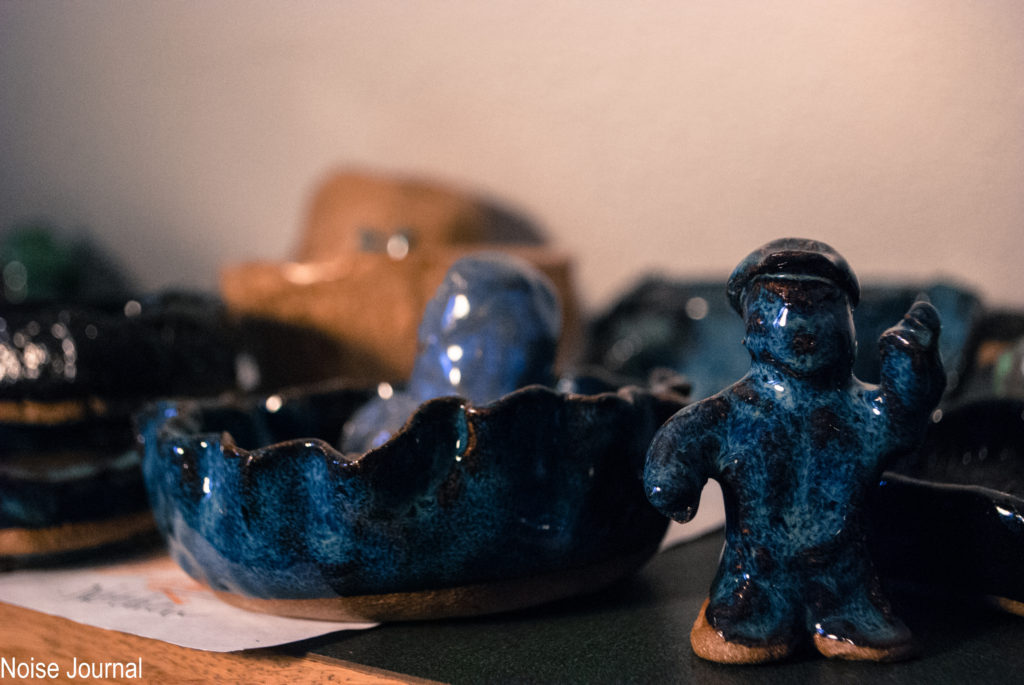 Joyner–who studied divinity but became disenchanted and left the church–seems to see many of the same communal benefits others seek in religion in the world of cannabis. When asked about Puff Pass & Pottery's view of the new presidential administration's efforts to further stigmatize the plant and its consumers, his response was hopeful and peppered with the type of language one might hear in a youth pastor's Wednesday night sermon.
"We really trust that we in the cannabis industry will really just cling to one another through this time, and really protect each other and help each other," Joyner said. "We really rely on it being a community–people that don't want to stand on each other and get ahead of one another but people that look at it as a collective whole. We are only as strong as we are united and that's one thing I think the cannabis has to its advantage–a lot of liberal minded people that really are prepared to work together to make sure that this isn't going to be taken away. People look at it as such a healing thing."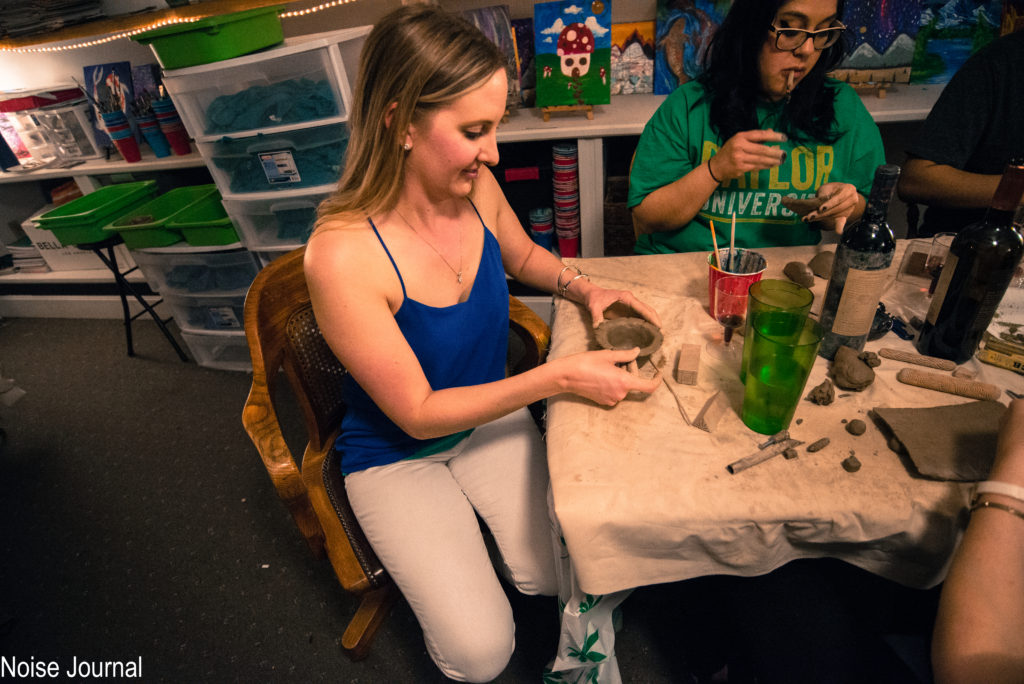 The bottom line, though, according to Joyner, is to go in expecting to have a lot of fun. Jenna Decker-Smith, the class instructor, received her masters' degree in ceramics from East Tennessee State, and throws herself into the class, helping when needed while giving the stoned creators space to work on their projects.
This isn't a scene from Ghost–the process is called "hand building." Students receive a clump of clay and let their imaginations run wild. Near the end of the class, Decker-Smith will walk around and give participants several glazing options. She then bakes the projects herself in a kiln, glazes them, and makes them available for the creators to pick up at the studio on Grant Street. Out-of-town participants can request the final product be mailed to them.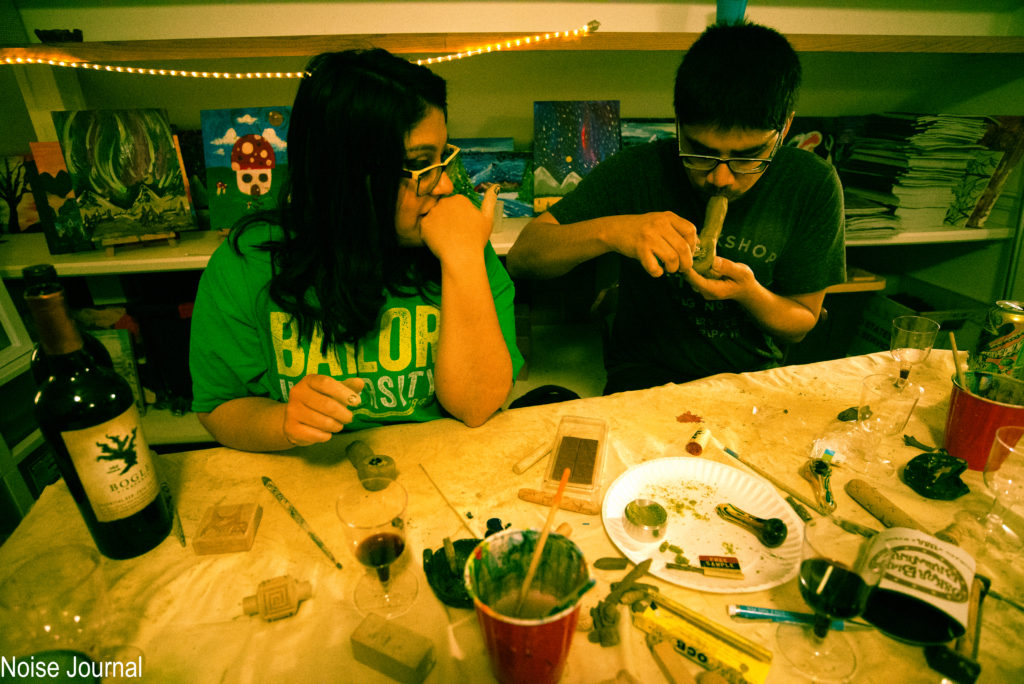 Oh, and be ready to smoke. While Puff Pass & Pottery doesn't provide weed at their classes, they partner with different dispensaries and other cannabis companies which provide complimentary cannabis for students to try.
"Cannabis is never guaranteed in their courses," explained Joyner, "but every once in a while our sponsors will provide complimentary vape pens, edibles and flower for students to try."
The mission of Puff Pass & Pottery is pretty simple: Explore art through the creative eyes of cannabis.
"It's an opportunity for people to really get their feet wet, to test out cannabis, to have a place to meet others, to learn about it, and to take away some of the stereotypes," said Joyner. "The medicinal value of it is something that's really overlooked, and we really emphasize that we think that we're using it for a purpose: To be creative together."
Puff Pass & Pottery is held every Friday, and the company holds other creative cannabis themed events including writing and painting courses.