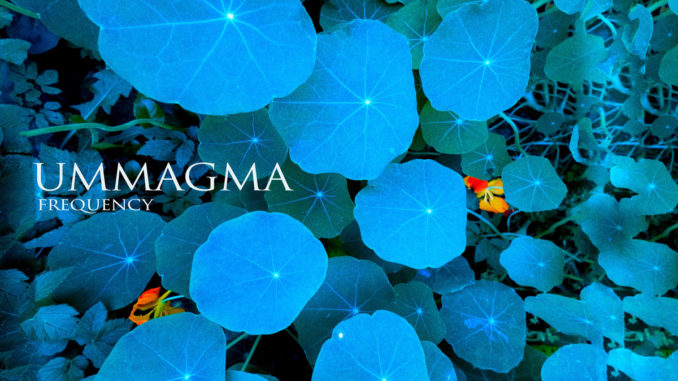 Canadian-Ukranian husband and wife duo Ummagma (Shauna McLarnon and Alexander Kretov) has been making waves in the underground music scene for several years now–both in the music they create and their promotional prowess. McLarnon's Shameless Promotions PR group is prolific in its advocacy of dreampop, shoegaze, and other weird-but-gorgeous indie rock acts.
Now, following up on 2014's hypnotic and politically-charged New Born collaboration with Sounds of Sputnik, the duo is out with a new EP and evolving sound.
Frequency is, according to their promo material, an exploration of "space and distance, timelessness, escapism, and the search for tranquility." It is, in fact, an intergalactic glitter-bomb that sparkles with quiet intensity and contagious hooks.
McLarnon's vocals have a quality that becomes this dreampop setting, but would work just as well in a big room or trance anthem (made clear in Malcolm Holmes's dance remix of the album's first single, Lama). When layered and drenched in effects, as in Winter Tale (also featured here), they have an otherworldly quality that complements Frequency's space vibe, and affirm the band's shoegaze influence in acts like the Cocteau Twins.
Kretov brings a glowing melancholy in the accordion-driven slowcore track Ocean Girl, a pleasant surprise on an otherwise synth and guitar-focused record.
Dreamy, catchy, and introspective, Frequency is a charming effort, and one that caught the attention of the Cocteau Twins's legendary Robin Guthrie, who puts forward a stunning remix of Lama.
Check it out below the guest review jump, and throw some money their way. Ummagma can be found here.
What our friends think: