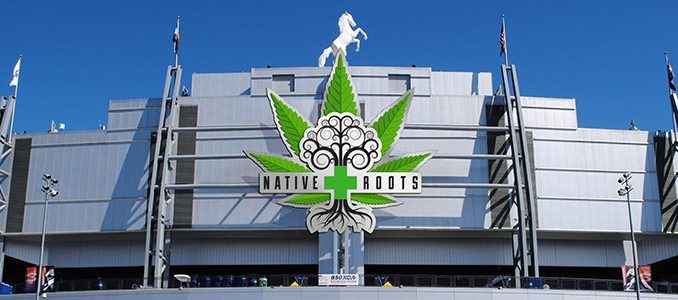 This article originally appeared at MarijuanaPolitics. I also write for those guys.
Denver's nickname has never felt more appropriate. Known affectionately as the Mile High City due to the fact it sits about a mile above sea level, the last few years have seen its Mile High status elevated and conflated as a booming recreational marijuana industry has developed in the city itself, as well as the state in which it resides. Now one of the largest marijuana dispensary chains wants naming rights to Denver's iconic Mile High Stadium.
No joke.
Native Roots, which runs more than a dozen dispensaries in the state and touts itself as "The #1 Marijuana Dispensary in Colorado" released a statement yesterday, April Fools' Day, in which it said it "has begun the process of acquiring the naming rights to Mile High Stadium, home to the Denver Broncos. They hope to rename the stadium "Native Roots Field at Mile High." Turns out they're pretty damn serious.
In a statement to Denver's ABC affiliate, a founding partner of Native Roots, Rhett Jordan said, "No, this is not an April Fools' joke — we have a ton of pride in the Broncos, we're a large corporation in Colorado just like a Coors Light or a Sports Authority."
They did a mock-up of the logo and everything.
Sporting retail chain Sports Authority currently holds naming rights at Mile High through 2020, but recently declared bankruptcy and is in the process of closing 140 of its 450 stores. This has called its ability to maintain the contract–thought to be worth about $23 million–into question. Native Roots says they can afford to buy out the contract.
It seems, however, that this concept, as exciting as it may be to pot enthusiasts, will simply go up in smoke. Though Native Roots claims that it "is in the process of meeting with NFL executives to determine next steps for the unique partnership," the Broncos don't seem to know anything about it. "Sports Authority has been a great partner for many years and we certainly hope to keep it that way," they told CBS.
Additionally, as Alicia Wallace noted in her blog The Balance Sheet, the NFL isn't exactly marijuana-friendly and the large Native Roots emblem that would adorn the field would most likely run against state law, which "places limits on outdoor advertising for recreational marijuana businesses and bars the consumption of marijuana in public."
Yes, the NFL, which profits heavily off its alcohol sponsorships, isn't exactly keen on marijuana, and has a tough substance abuse policy that routinely sends players into suspension for simple marijuana use. Celebstoner put together a list aggregating all marijuana-related suspensions in 2015, showing that nearly twenty players lost playtime and pay because they got busted for smoking pot.
These potential obstacles don't seem to bother the dispensary chain's executives, who seem downright enthusiastic about their grand idea. "We may breathe green but we bleed orange," said Josh Ginsberg, CEO of Native Roots. "Just like John Denver so memorably sang in Rocky Mountain High, it only makes sense that the company which gains the new naming rights of Mile High be reflective of Colorado."
Whether or not it actually happens, you can count this attention-seeking campaign as very successful.